LS-58x includes the Gen 4 Chevy LS V8s. Commonly known engines of the Gen 4 variety include LS3, LS7, L99, LSA, LS9, and Vortec Truck variants.

When you purchase a 58x LSx harness from Speartech, the harness comes with all wiring to the engine and transmission and includes a check engine light, diagnostic connector (can be used with an OBD-2 scan tool for diagnostic purposes), fuel pump relay, throttle pedal harness, fuse block, wires for a computer controlled cooling fan relay, and labeled wires for easy hookup to the battery, ignition switch, and fuel pump. Labeled wires are also included for tach, speed, and brake switch functions where applicable.
These custom stand alone harnesses are built for full function, closed loop control, and designed for non-emissions use (no post-cat O2's, purge canister, or fuel tank evap interface).
The standard length of our new harnesses are 3.5'.
This length is measured from the back of the engine (where the harness forms a single trunk line), to the location of the ECM, and is typically designed for mounting the ECM inside the cabin area. Please see photo below for reference of our standard length harnesses.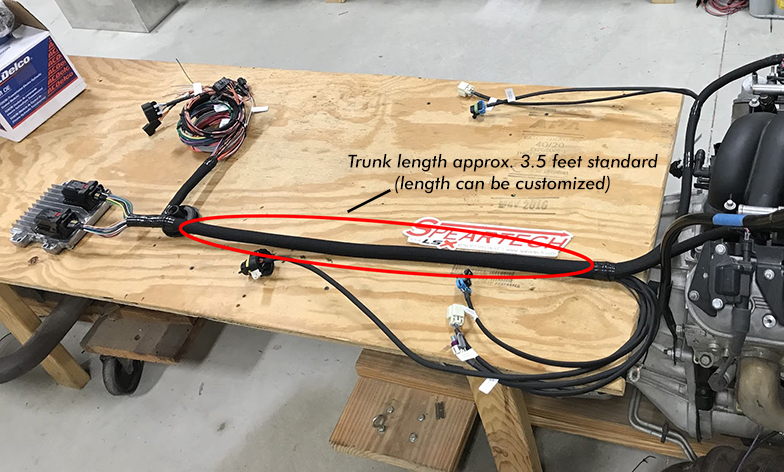 This setup and measurements work for most of our customers, but as always, we can make the harness to your specifications. Just give us a call.
All harnesses are covered in our latest high-tech, high-temp woven covering for a durable, show car look!
We can make a standalone swap harness for any GM LS-58x LSx variant. LS2, LS3, LS7, LSA, LS9, Vortec truck engines, and anything in between, including VVT & DOD engines - L99, L76, L92, etc.

Feel free to use whatever transmission you want. We can make your harness for use with any of the popular options including: 4L60E, 4L80E, 6L80, 6L90, T56, T56-Magnum, TR6060, etc.
Due to changes in GM programming policies, 2010 and newer ECMs sent to us for reprogramming may have to be replaced based on your engine/transmission combination. Listed programming prices on our site are subject to change on a case-by-case basis. Further explanation will be given when placing your order.


If we are handling the programming of your PCM/ECM and you have a moderately/heavily modified engine, local dyno tuning is a must to get your setup dialed in. We are very well versed in the programming of the computer modules specifically relating to swap use, but we advise local tuning on a dyno for moderately/heavily modified and boosted applications.
Our Gen 4 58x LS Signature Series standalone harnesses start at $995. Please call us at (765) 378-4908 to discuss options, get a quote, or to place an order.